Congratulations! SCIO's brand 4am Robotics was awarded the VDI Innovation Prize for Logistics 2023 for its autonomous robotics solution AMC-L. 4am Robotics received the top prize on March 23, 2023 during the 30th German Material Flow Congress in Munich. The AMC-L is a core element of the 4am portfolio, which is designed to demonstrate a holistic, fully automated and flexible logistics process.
"Winning the VDI Innovation Prize for Logistics shows that we have struck a chord with our vision for flexible, modular and safe intralogistics of the future. Our AMC-L is the missing piece of the puzzle for seamless and autonomous process chaining in the digital factory of tomorrow," said Dr. Ulrich Reiser. Head of 4am Robotics.
Peter Stoiber, who is also a Head of 4am Robotics, added: "We're surprised and very happy about the award. It's a great reward for the entire 4am team displaying exceptional process and product development skills, and it's a testament to how well they all work together."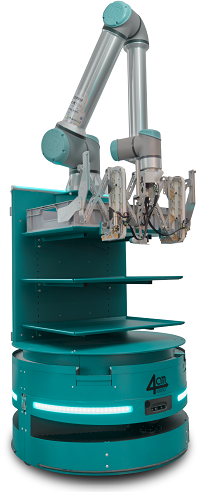 The VDI Society for Production and Logistics (VDI-GPL) presents their "Logistics Innovation Prize" each year as a way to promote developments in logistics that stand out from the crowd due to their innovation, reliability, availability and safety. The prize is awarded to a company that has made an outstanding contribution to innovation in logistics.

Gregor Blauermel, Managing Director of B416 Unternehmensberatung and Chairman of the jury, explains what compelled the jury to crown 4am the winner this time around: "The fact that we are increasingly making progress in robotics that can be applied to the real world is definitely welcome news, not least due to severe labor shortages across the country at the moment. By awarding the VDI Innovation Prize to 4am Robotics, we're recognizing a solution that, thanks to its modular design, enables a variety of different setups, which means it can be easily adapted to a wide range of customer requirements. The jury was particularly impressed by the fact it doesn't need much space to work in, so it can be integrated into existing working environments tailored to humans without the need for any conversions!"

During the Material Flow Congress, 4am Robotics also had the chance to present their innovation to an interested audience of experts. In his presentation entitled "Autonomous Mobile Cobot AMC - Automating the final stretch of KLT material flow", Ulrich Reiser showed off the various benefits of the AMC-L for intralogistics of the future.
The AMC-L autonomous mobile cobot automates the last stretch of logistics - material supply on the conveyor belt - and it enables fully automated end-to-end process chaining as a result. At the same time, it takes the strain off of employees and companies. The base of the cobot where the drive and safety technology is installed, is connected to an intermediate storage system for material or transport containers by a patented torso joint. This torso joint ensures improved stability with a minimal footprint, which means the cobot is just what's needed when working in confined storage environments. A patented gripper system can pick up containers of different sizes, so it's more than capable of transporting a wide variety of material from A to B. 3D camera technology, lidar technology and software make sure that the AMC-L is able to move freely, safely and accurately in space and can flexibly respond to its environment.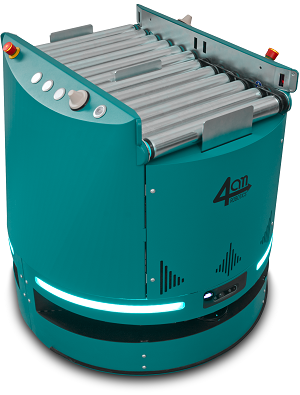 All in all, its modular design means that AMC can be flexibly adapted to complex handling tasks, depending on what each individual customer needs. A single solid basis with many different visions for products will ultimately expand the size of the market that your business is able to operate in.