A great success! From October 10-13, 2023, SCIO's Discrete Automation team was on the road at Motek. In Hall 5, our five Discrete Automation brands VESCON, Industrial Automation, MRB Automation, tmp and AUTKOM presented their overall portfolio for production and assembly automation along a machine's entire lifecycle at their joint booth.
In contrast to their trade show appearances at LogiMAT and automatica 2023, our automation platform put on a visually consistent SCIO brand appearance for the first time, which was well received by all. Representatives from #membersofscio presented the portfolio using exhibits, presentations and brochures.
"The trade fair showed how closely we're interlinked and pulling together now to reach our common goals. We focused on our comprehensive and cross-brand Discrete Automation solutions, presenting a holistic approach to the trade's audience," said Antonio Cavotta, Head of the Discrete Automation business segment.
One question kept coming up time and time again though:
What does SCIO actually mean by Discrete Automation?
"Discrete Automation" is one of SCIO's segment names, that we use to summarize our automation services for the discrete manufacturing industry. Discrete manufacturing can be regarded as distinct from continuous manufacturing. In this context, discrete means producing individual, separate products or parts, i.e. something that's produced in separate units and can be counted, e.g. cars or electronic devices. This is in contrast to continuously producing substances (e.g. liquids or gases) as you will see in the process industry. The area is covered by SCIO under its Process Automation segment.


How did we present our Discrete Automation segment portfolio at Motek?
Our Discrete Automation portfolio consists of three main areas: Automation Solutions, Automation Systems and Automation Services.
At the trade show, we linked these three areas to clearly demonstrate to our visitors how Discrete Automation works in practice and how the whole production is intelligently networked.
You can also find out more in Discrete Automation brochure.
A real eye-catcher that encapsulated what our company's versatile special machine solutions are about was our Gin-O-Bot-Bartender, which attracted numerous visitors to our booth. Our team developed a robotic cell that mixed gin and tonics on-site for our visitors. Booth visitors selected their drinks at the HIBERION Tower, which is fitted with our HIBERION PDA and traceability software, and received real-time data and statistics, such as the number of gin and tonics that were mixed in 15-minute intervals and distributed over the entire fair.
In addition, our team created a Digital Twin of the robot cell and the entire booth. Visitors were able to explore a simulation of the Gin-o-Bot and learn about the wide range of fields that our Digital Factory concept can be used in.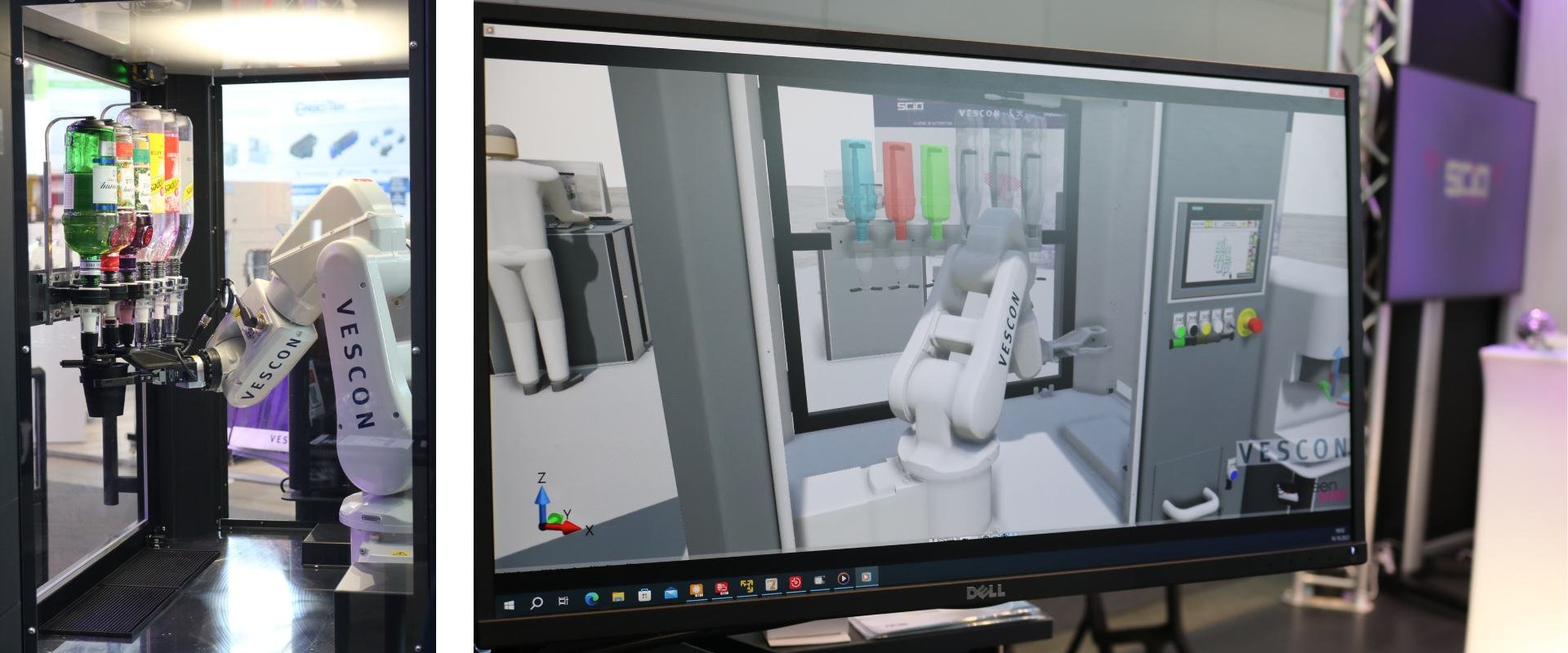 | | |
| --- | --- |
| | As part of this, the team created a visual layout of the entire booth with the SO3 software, including a real-time experience for visitors: By scanning a QR code, visitors could actively follow the real-time progress of the booth layout and immerse themselves in the huge range of possibilities offered by SO3. |

We also presented our high-precision systems, which are used in medical technology and precision mechanics/optics, to name just a few industries. These are fully automated systems that carry out adjustment, measurement and testing processes down to the nearest micrometer. We exhibited various parts that have already gone through our systems' processes. This gave visitors a sharper insight into just how precise our machines are.
We were represented internationally as well! Our team, which normally serves our customers in the USA and Mexico, was also on-site in Stuttgart to demonstrate how to operate our high-tech machines.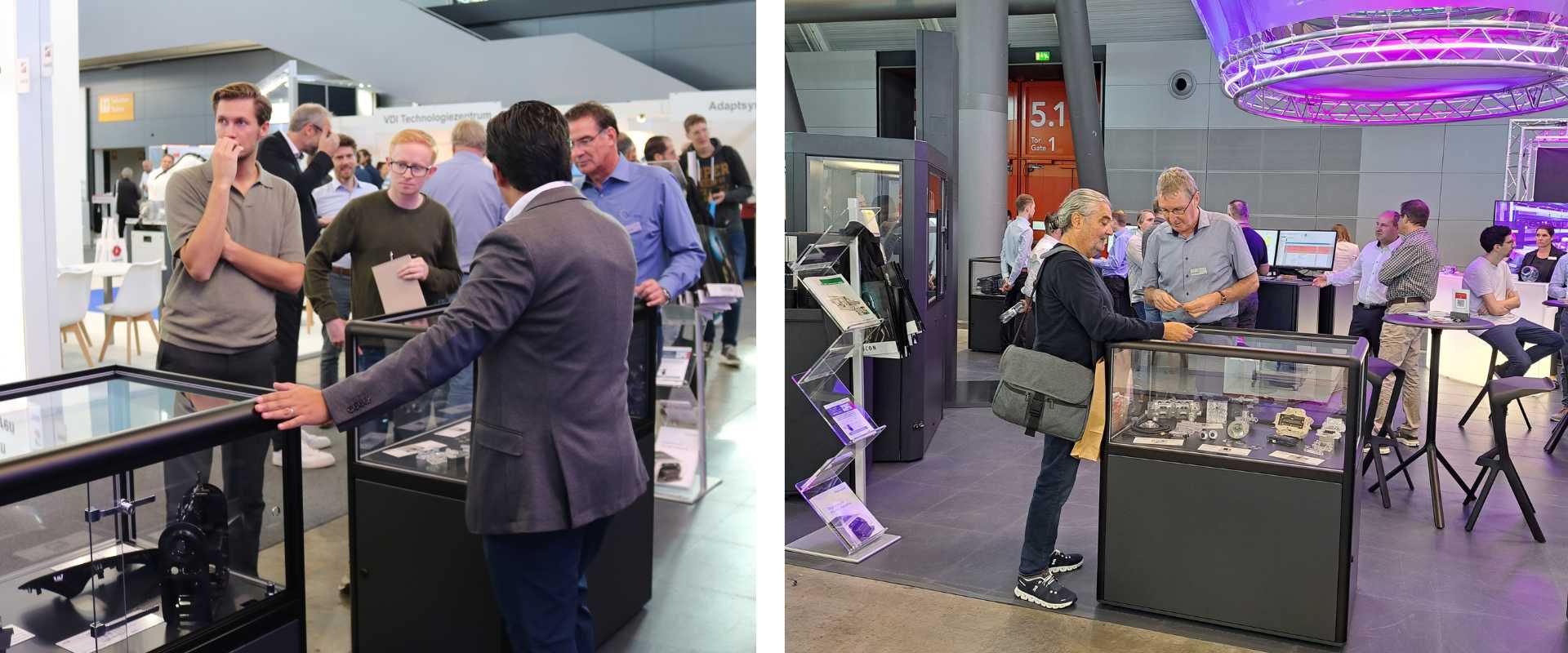 Our experts were also available to answer questions and discuss projects related to control technology. In addition to outstanding PLC programming, our specific focus was on machine safety. Questions on safety services such as: "How do I safely achieve CE conformity for plants?" and "How do I increase the efficiency of a machine control system?" were discussed in depth.
"The trade show was a roaring success. Our joint appearance meant that we were extremely successful in meeting new, interesting contacts, and making a note of any project inquiries. I would like to express my sincere thanks to all my colleagues who were involved in the trade show and gave their all from start to finish," said Antonio Cavotta, Head of the Discrete Automation business segment.
Would you like to delve even deeper into the world of the Smart Factory?
You can find more information about our Smart Factory automation solutions here.